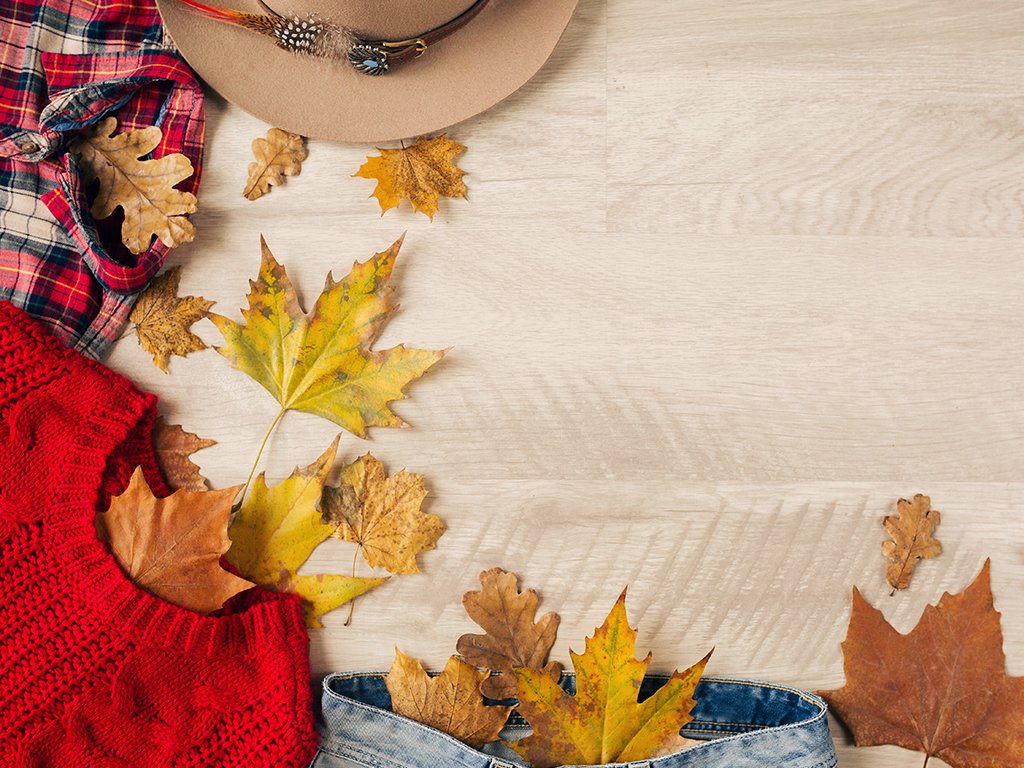 I'm an autumn girl through and through – the weather, the smell after the rain, the holidays, and most importantly, THE FASHION! I'm a total sucker for autumn fashion, and now that the season has finally arrived, I thought I'd share with you a list of Top 10 Wardrobe Must-Haves for this awesome time of year!
Before we get into it, let's talk a bit about what's on trend this year. Aside from the nostalgic comeback of early 2000s styling, we're also looking at new silhouettes, bold patterns, cosy textures, and SUPER saturated colours! So while neutral tones and more figure-hugging pieces remain classic and crucial for optimising outfit opportunities, you're going to notice some pretty 'unusual' autumn pieces hitting the rails this year. Which is great, because a lot of it is inspired by total comfort and positive vibes – and we all know how much we need those!
So now that we've established what's in, let's go back to the basics. The essential items that will allow you to dress up or down, to layer to your heart's content, and to mix and match with your already-existing wardrobe and the new bold items you won't be able to resist buying! And if you're wondering where you can find all of these pieces, The Point is the perfect one-stop place to go! Now without further ado, here's the list:
I had to start off with the most obvious item because it doesn't get much more basic than that! Jeans are an absolute must – and while the skinny fit has been a popular go-to in the past years, this year it's all about the looser styles. Think mom jeans, boot or straight cuts, and flares! And darker hues are perfect to go with everything, so go for a deep indigo, black, or grey to vary your options to the max.
While on the topic of jeans, I had to dedicate a spot to the beloved denim jacket. Perfect for the mid-season weather, this item is a must-have and can transform just about any outfit. Wear it over a midi dress or a plain white tee – combine with sneakers for a more casual look or pop on a pair of heels or pretty flats to spruce it up!  What's more, denim on denim is also totally in, so you can experiment with different shades and silhouettes, roll up the sleeves, and keep your look versatile and fresh.
The basic of basics and essential of essentials! A plain white tee (or not plain, any will do) can be worn with anything, styled in many ways, and makes for great layering – making it a definite staple in your wardrobe. Wear with jeans, under a slip dress, with overalls, tucked in shorts or a skirt, and layer with a long cardigan, a blazer, denim jacket – the possibilities are endless!
Co-ords are taking each season by the storm, and it's no different this autumn! Experiment with different silhouettes, colours, patterns, and textures! (I'm particularly fond of the fluffy or cable-knit sets for this season) The best part is that for each co-ord set you have, you get triple the outfit potential by mixing and matching! Now that's a win in my books.
Cosy, comfy, cute, and perfect for layering – flannel shirts are another mid-season wardrobe staple! Dress it up or down, solo or layered up, try out different combinations of colours and patterns, and have fun with accessories! A flannel shirt is the perfect "hello autumn" piece – and it's clear to see why!
Tailored looks are HUGE this season, so a blazer (or two… or five) is a must! Go wild with different silhouettes and colours and embrace a bolder look, whether your choice is "out there" or more toned down. Either way, do yourself a favour and get yourself a blazer!
A beautiful piece to have for this season – especially with classic autumny shades of brown, yellow, green, orange and red. Layer up with a denim jacket or a cosy knit jumper on cooler days, and pair with ankle boots, flat shoes, or sneakers! A long flowy dress is the perfect outfit for that #autumnvibes insta photo!
You may say it's too early for boots – but hear me out – once the rain kicks in, boots are your best friend! And while ankle boots remain an all-time favourite, knee-high (or mid-calf) boots are all the rage this season. They offer such versatility – whether high heeled, flat, or anything in between. Pair with your favourite jeans, a short skirt – or if you want to be really "in", wearing them with a midi dress or skirt will take you from bleak to chic in an instant!
A good comfy pair of white sneakers is the perfect way to transform any outfit into a slightly more casual but still super trendy look. Wear with jeans, leggings, a shirt dress, oversized jumper dress, flowy dress, midi skirt – just about anything at all! A definite must-have in my books – especially if you're out and about and on the go!
Okay, I had to cheat and combine these into one point because I couldn't choose just one! Accessories are practically crucial for autumn – not only to up your style, but also for practicality's sake! We'll start with the show-stopping headwear for the season – fedora hats, bucket hats, beanies, and headscarves are all the rage and will transform your outfit in an instant! When it comes to handbags, it's time to channel your inner Mary Poppins because BIG is back in! And for jewellery this season, the bigger and bolder, the better! So be sure to upgrade your accessory collection and enjoy being on trend this year.
There you have it – the Top 10 must-haves for your wardrobe this autumn! And if you're looking for the perfect place to go to get your hands on all such items and more, be sure to head on down to The Point Shopping Mall to feast your eyes (and empty your wallet) and get yourself outfit-ready for the months ahead!
Happy shopping!
Love,
Fran the Fashionista