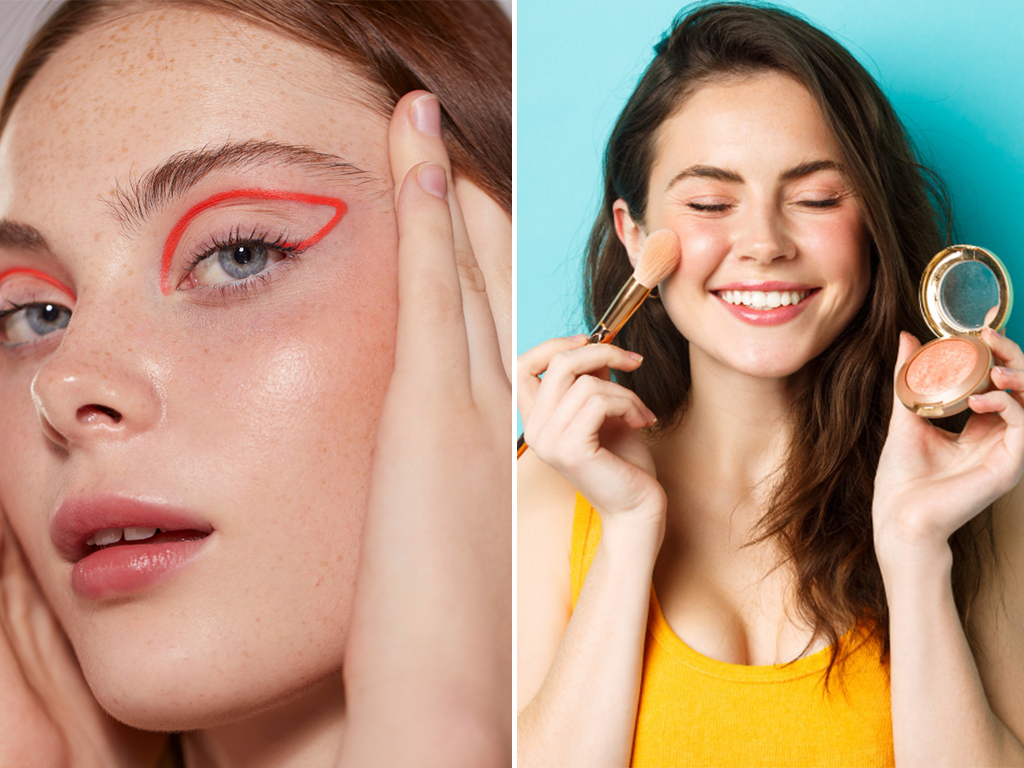 As the days start getting sunnier and warmer, it's time to shift our makeup looks to our breezy summery looks! Brighter and lighter, pops of colour, shimmer, gloss, and glow – here are some 2022 makeup trends for you to try out this season!
Let's start with the eyes:
Bright Coloured Liner – The brighter the better! Think neon, metallic, or shimmery shades of blues, greens, yellows… and you could go beyond the regular lining and create some different looks from a double wing to bigger and even more daring shapes with your colourful liner to create a more euphoric vibe.
Bold Shadows – Eyes are being given a POP this year as even the eyeshadow trends are calling for bright and bold looks. From metallic and shimmery to neon and even pastel shades, it's all about the colours! So this gives you the perfect opportunity to whip out your favourite eyeshadow palettes and experiment with different colours and styles.
Face Jewels – Further accentuating the eyes this year is the bejeweled look. Give yourself an artistic, expressive, and dazzling look by using rhinestones and embrace the powerful and confident feeling they'll give you!
Now that we've covered the eyes, what's happening in the eyebrow department? We're looking at mainly two looks, which are quite far from the bolder brow looks we've seen in the past few years:
Feather Brows – the natural fluffy feathered look is IN, seeing eyebrows brushed upward, perhaps even with the help of an eyebrow gel for a more fixed look, yet still light and wispy.
Thin Brows – bringing back the 90s vibe, we're seeing a lot of thinner and lighter brows, with accentuated arches.
Moving on to the general look of your skin, here's what's on trend when it comes to blush, contour, and your overall look:
Bright Blush – the sun-kissed look is BIG this season, with bold, bright, and heavier blush, giving you that lifted summery glow. And speaking of glow…
Dewy Skin – a near-naked skin look is very much in right now, putting harsh contouring on the backburner and embracing that outer glow. Think soft, shimmery, dewy no-makeup makeup and you're on the right track!
Now let's talk about your POUT for this season! What trends are we looking at in the lip section?
Bright Colours – the bright coloured theme is being carried on to the lipstick trends this summer – while neutrals and a classic red are still well loved, we're seeing brighter shades of red, orange, and pink, ranging from super shiny and glossy to a soft yet bold matte.
Diffused lips – no need to go big on the lip liner this season as a diffused shaded lip look is in! Pop a bit of your favourite coloured lippy on the inner part of your lips and simply smush your lips together or blend it outwards with your finger to get the perfect diffused look.
And of course, if you're on the hunt for the perfect place to get all your makeup needs – products, brushes, or even beauty services, then be sure to visit The Point and pop over to Lucy Makeup Store, Inglot, FRANKS, and KIKO Milano, and get your GLAM on!
Enjoy!
Ally the MU Addict x