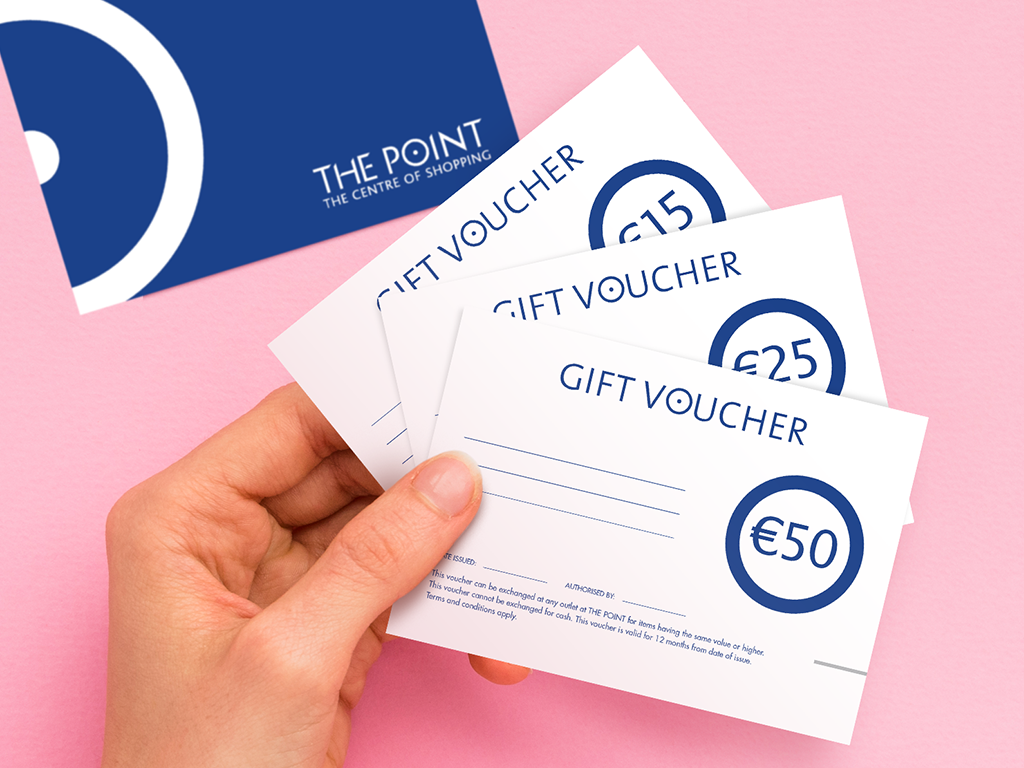 Gift-giving is a beautiful deed – it's always wonderful to see someone's face light up with gratitude and excitement as they open it up. The process of choosing the right gift when you have no idea what to get, though, can be somewhat stressful. No matter who it's for or what the occasion, sometimes it's hard to find the right thing. The answer to this problem? Easy – Gift Vouchers from The Point!
What's so great about gift vouchers? Essentially, you are giving the gift of choice, plus the opportunity for a fun shopping experience. #bonus
The Point has an incredibly wide variety of outlets that caters for absolutely anyone – any age, any lifestyle, any taste – and their vouchers can be used at absolutely any of their outlets so the options are endless!
The vouchers come in values of €15, €25, and €50, so whatever your budget, you can mix and combine different values to make up just about any amount in multiples of 5… the only combinations that can't be made are €35, €55, and anything below €15 of course.
It's worth noting that each voucher must be spent at one go – so if you have a voucher of €50, it would need to be used on a purchase of that value or more. You know your giftee best so you can make the right choice based on their tastes and general spending habits!
Their vouchers are valid for a whole year from issue date, so when giving them as a gift, you are also providing plenty of time for your giftee to go when suits them best. And on top of anything, as I mentioned earlier, you're giving them an opportunity to go out and treat themselves.
The vouchers can be purchased from the Management Suite at the mall itself on Level -1 (right in front of the elevators) between Mondays and Fridays from 9am till 5pm, or online from their website where you'll receive them via registered mail. (Be sure to plan ahead as it can take up to 3 working days for them to arrive.)
Many people consider vouchers to be an "easy way out" – but consider this: You are actually giving the gift of an opportunity to have a great time; a thoughtful, flexible gift that leaves your loved one absolutely spoiled for choice!
So the next time you need to get a present for someone, don't think twice – get them a gift voucher from The Point. That's what I do, and it always works out. 🙂
Happy gifting!
Tom the Voucher-holic