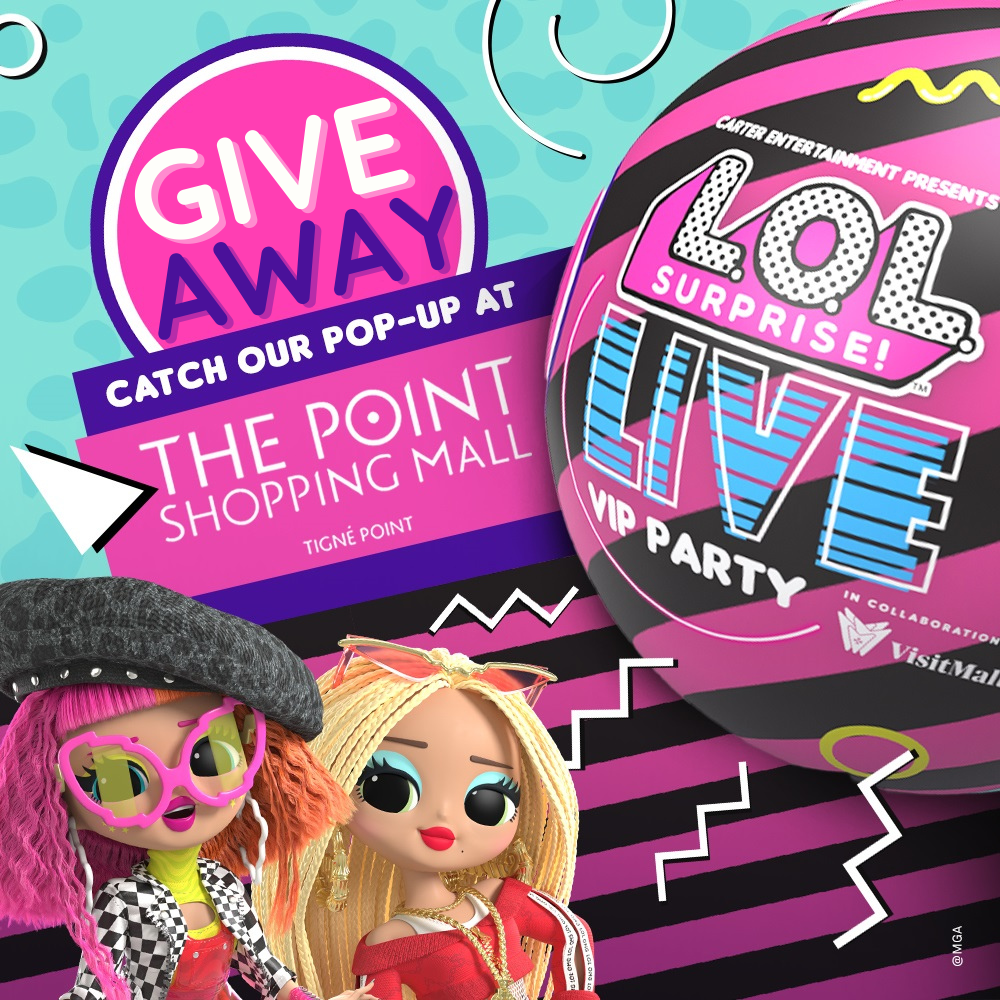 Get YOUR chance to WIN* VIP Meet & Greet Tickets for the L.O.L SURPRISE LIVE Show on Thursday 7th April ⭐ 💃
How to participate:
1. Follow @ThePointShoppingMall Facebook page ✅
2. Like the dedicated post
3. Tag a friend who would love to dance with the L.O.L. Surprise Character Dolls LIVE ✨
TWO winners will be chosen at random on Monday 4th April ⏰
– One winner will receive 3 tickets
– One winner will receive 2 tickets
Each VIP Meet & Greet Ticket includes: One (1) Premium VIP reserved ticket to see L.O.L. Surprise! LIVE + Invitation to the Pre show Meet & Greet to see two (2) of your favourite L.O.L. Surprise! Character Dolls LIVE + Photo Opportunities inspired by the L.O.L. Surprise! World.
*T&C's Apply 👇
.
.
.
.
.
.
.
.
TERMS AND CONDITIONS OF USE – WIN VIP Meet & Greet Tickets for the L.O.L Surprise Malta Show
Definitions
"We/Us/Our/The Point" means Tigne' Mall plc, a Maltese public limited company bearing company registration number C 35139, with VAT Registration number [VAT no. MT1756-0810] and having its registered address situated at Management Suite, The Point Shopping Mall, Sliema TP01, Malta.
"You/Your/Yourself" means the participant in The Point competitions.
Preliminary
1.1 These terms and conditions govern Your entrance into and participation in competitions organised by the Point through the website https://www.thepointmalta.com/ and/or other URLs belonging or licensed to The which you may have been directed to via social media channels. By entering into a competition You will be deemed to have accepted and shall be bound by these terms and conditions which are solely available in the English language and which will be interpreted and construed in accordance with the laws of the Republic of Malta. These terms and conditions should be read together with Our Privacy Policy which contains information as to how The Point processes Your personal data, and which would also apply to the processing of Your information to enable Us to enroll You as a participant in a competition.
Competition Entrance
2.1 To participate in this competition you must:
– Follow The Point Facebook page
– Like the dedicated post
– Tag a friend who would love to dance with the L.O.L. Surprise! Character Dolls LIVE
2.2 You may have been directed here by one of Our advertisements on one of Our social media pages or by following links on third party websites or otherwise. Regardless of the above, You will be considered a participant in one of The Point competitions and hence subject to these terms and conditions, with a chance to win a prize (See Clause 4.1) once You answer the competition question via the webpage found under scanning the QR Code.
2.3 It is important that You enter all of Your information in the most true, complete, correct and accurate manner possible. Any entries which are in the sole discretion of The Point, deemed inaccurate or incomprehensible, or for any reasons not received by The Point shall be considered invalid, meaning that You will not be considered a participant in the competition(s).
3. Competition Entrance Conditions
3.1 The Point competitions are free and are open to all persons aged 18 years and older, subject to what is stated in Clause 3.2 below.
3.2 You hereby represent and warrant that You are either over 18 years old or that you are over 13 years old and have acquired the authorisation of your parent/guardian and therefore have the capacity to enter into and participate in the competition(s) in the laws of jurisdiction applicable to You. You fully understand that it is entirely and solely Your responsibility to enquire and ensure that You do not breach any laws applicable to You by participating in the competition(s).
3.3 You also warrant and represent that You are registering solely on Your behalf, and that You shall be participating in the competition only on Your own behalf and not on behalf of any other person.
3.4 Entry into competitions is not open to:
– Any director, member, partner, employee, agent of, consultant to, lessee of, sub-lessee of, (employee of such lessee/sub-lessee), or anyone associated with or affiliated to The Point via any direct/indirect brand affiliation or otherwise and
– such prohibition extends to any spouse, life partner, parent, child, brother, sister, business partner or associate of such persons.
4. Prizes
4.1 Should You satisfy the Competition Entrance Conditions as explained in Clause 3 and sign up in accordance with the instructions in Clause 2, You will be eligible to win VIP Meet & Greet Tickets if you are chosen among the participants. More information regarding the prizes will be communicated to You via advertisements on Our social media pages or on Our website.
4.2 There are (2) two prizes which will be provided to people chosen at random from all participants. Should You win a The Point competition, We will contact you directly from your comment on the dedicated post inform You of such and how You can claim Your prize.
4.3 Winners of the competitions are requested to claim the prize within 1 day of being notified. If any winner fails to confirm acceptance of the prize after being notified that they are the winner before such period or otherwise rejects their prize for whatever reason, another valid participant will be drawn, verified and declared a winner.
4.4 Prizes are not transferrable to another party and nor are they redeemable in kind, unless specifically indicated by The Point. You warrant that all information submitted is accurate and complete for the purposes of contacting you in this regard.
4.5 Prizes are subject to availability and certain cost variables. Should The Point, at any point suggest that participants entering into a competition will be eligible for a certain prize, and for any reason which is outside The Point's reasonable control such prize is no longer available, then The Point shall endeavour to find a suitable replacement prize of the same value.
4.6 The Point's decision concerning the prize and/or any dispute or issue arising with respect to the competition(s) is final.
5. Disclaimers
5.1 The Point reserves the right to cancel, terminate, modify or suspend the competition(s) and any prize (which have not yet been subject to a draw), or any aspect thereof, or these terms and conditions at any time and for any reason, either in whole or in part, with or without notice and without any liability. In any such event, all participants hereby immediately agree to waive any rights they may have in terms of such competitions and acknowledge that they have no recourse against The Point, its agents and/or promoters. Modification, cancellation, termination or suspension as the case may be, will be made available on https://www.thepointmalta.com/ and will be considered effective as from that date onwards. Any participant statutory rights will however not be affected by any such change to the terms and conditions.
5.2 To the fullest extent permitted by law, neither The Point nor their partners or agents supporting the competitions shall be responsible for any loss, damage or injury whatsoever suffered by any participant (including but not limited to any direct, indirect, consequential, special, punitive or incidental loss or damages) or for any personal injury (whether physical or mental) suffered or sustained by You as a result of or in connection with the competitions or the acceptance, use or application of the prize.
5.3 The Point shall not be liable for any losses resulting from third party services outside its reasonable control whether such services are used by You to access The Point website or used by The Point in order to comply with Your instructions.
5.4 Neither The Point nor their partners and/or agents, can be held responsible for computer system hardware, software or program errors, or other failures in computer transmissions or network connections for any entries lost, illegible, incomplete, damaged or misdirected entries.
5.5 You agree to indemnify, defend and hold harmless The Point, its directors, officers, employees, consultants, agents, and affiliates, from any and all third party claims, liability, damages and/or costs (including, but not limited to, legal fees) arising from, without limitation, Your breach of these terms and conditions, Your infringement of any intellectual property rights or any other right of any person or entity, or Your breach of any duty of confidence or privacy, or any defamatory statements made by You in any form.
6. Governing Law and Jurisdiction
6.1 These terms and conditions shall be governed by Maltese Law. By participating in The Point competitions, You shall be deemed to have accepted Maltese law as the law governing Your entrance into and participation in the competitions. The Courts of Malta shall have exclusive jurisdiction over all claims or disputes arising out of, or in relation to, or in connection with the competitions and these terms and conditions.
7. Contact
7.1 For all queries in respect of these terms and conditions and/or The Point competitions, please contact Tigne' Mall plc on +356 2247 0300 or send an email on [email protected].