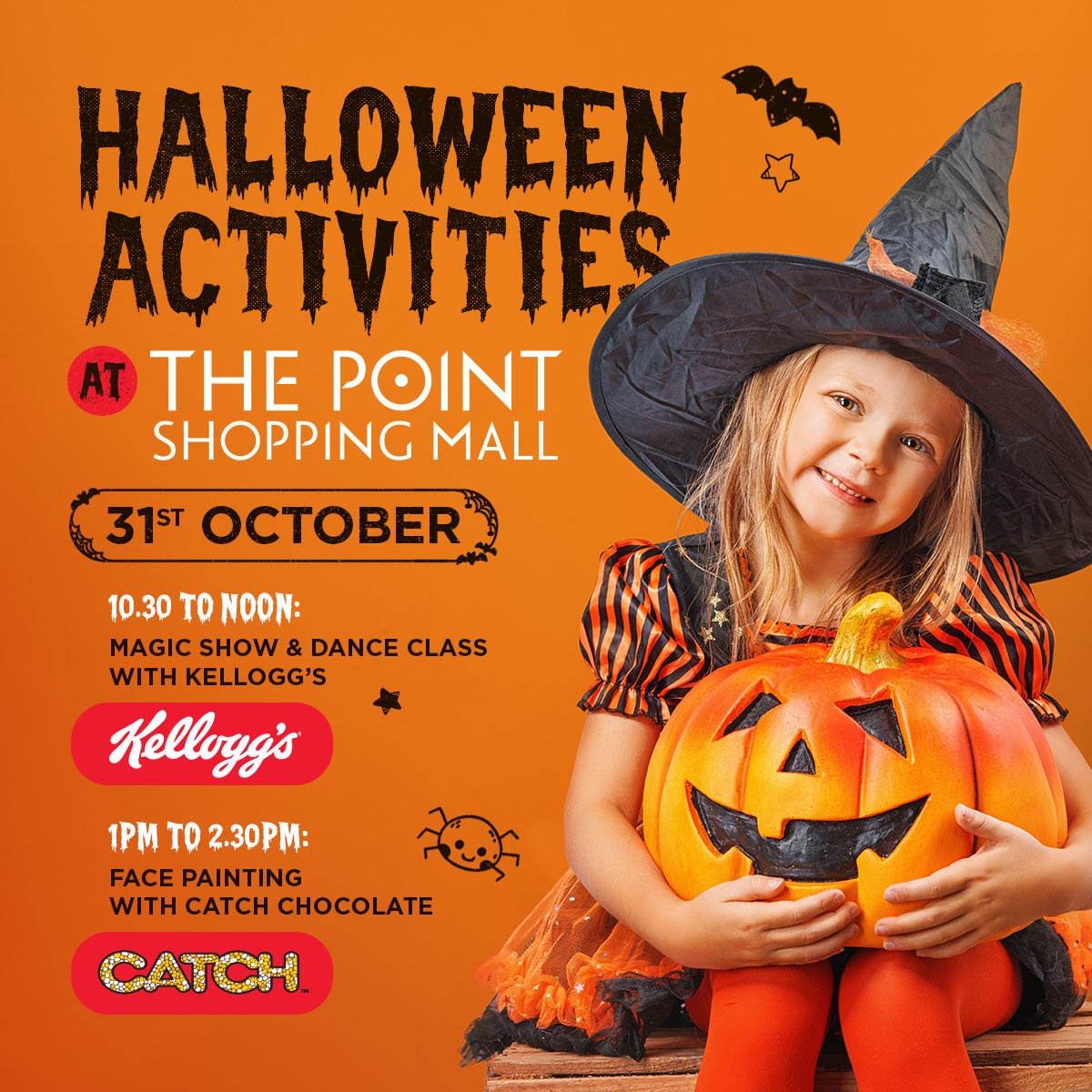 𝗧𝗵𝗲 𝗼𝗻𝗹𝘆 𝗱𝗮𝘆 𝘀𝗰𝗮𝗿𝗶𝗲𝗿 𝘁𝗵𝗮𝗻 𝗛𝗮𝗹𝗹𝗼𝘄𝗲𝗲𝗻 🎃 𝗶𝘀 𝗠𝗼𝗻𝗱𝗮𝘆 🍫🕷️ 💀😈🧟‍♂️🦴
Let
Kellogg's
and Catchbar Malta make your Monday a FUN one with our 𝗙𝗥𝗘𝗘 activities:
🗓️ WHEN: Monday 31st October
🪄 10:30am – noon: Magic Show & Dance Class – FREE Kellogg's Bars* for guests
👨‍🎤1:00pm – 2:30pm: Face Painting – FREE Catch Chocolates* for participants
Francis Busuttil & Sons Marketing Ltd
I @fbs_marketing_ltd I
@ixxirja
I
@catchbarmalta
I
Catch Bar Malta
The Point, Malta's favourite shopping destination 😍
TERMS AND CONDITIONS
These Terms and Conditions prevail in the event of any conflict or inconsistency with any other communications, including advertising or promotional materials. Entry / Offer instructions are deemed to form part of the Terms and Conditions and by participating all consumers will be deemed to have accepted and be bound by the terms and conditions. Please retain a copy for your information.
Starting on the Monday 31st October 2022, visitors may enjoy the offers, competitions, gifts and more offered by our partners when visiting The Point.
In order to do so, visitors should:
👣 Visit The Point on Monday 31st October 2022 between 10:30am and 2pm.
📍 Levels -2
😋 Enjoy
3. Activities are run directly by our partners namely Francis Busuttil & Sons Ltd and Consolidated Biscuits.
4. If you wish to contact us regarding any queries or comments, please do so by sending an email to [email protected] or call on +356 2247 0300 (from Monday to Friday between 9am and 5pm).
5. By participating, the participant is irrevocably accepting these Terms and Conditions that may be amended.
6. Tigné Mall Plc. reserves the right to unilaterally change these terms and conditions, without any prior notice and without any formality.
7. A copy of our Data Privacy Policy can be found here: thepointmalta.com/privacy-policy/