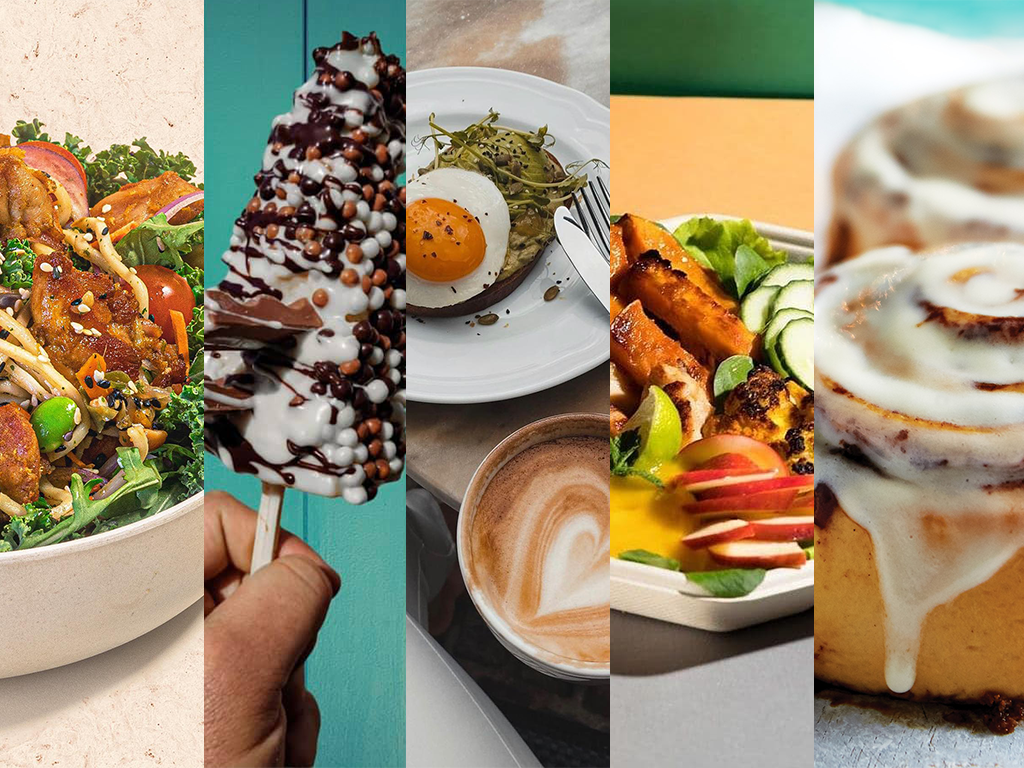 If you're anything like me, one of your top priorities when planning an outing is considering: "What can I eat while I'm there?"
I love food, all kinds! And I also love shopping… which makes going to The Point great because I get to do two of my favourite things and have loads of great options to choose from for both of them!
In this post I'm going to give a brief rundown of everywhere you can go to eat and drink at The Point – from light snacks to heavy meals, from the healthiest eats to the cheekiest treats, from power smoothies to delicious milkshakes, and so much more!
For the sake of keeping it organised, I'm going to start from outside on Level 0, Piazza, and work my way down to Level -3.
Warning: You may find yourself getting progressively hungrier as you read on. 😀 Enjoy!
French Affaire
Dainty, quaint, and simply remarkable – French Affaire offers scrumptious breakfasts, snacks, desserts, and coffees. Wraps, sandwiches, croissants, macarons, and more – making it ideal for any occasion! Romantic date? Catchup with friends? Post school run treat with the kiddos? This is your place to go.  
Cibo
The perfect restaurant to dine at after working up a big appetite during your shopping spree! Incredible Italian pizzas (cooked to perfection in a wood burning oven for extra authenticity) are a staple – but they also serve burgers, pasta, meat, salads, and more. A vast menu and a lovely atmosphere, highly recommended!
JAR
Making our way inside the mall, JAR allows you to get creative by choosing your own ingredients from their display to make your own salad, wrap, or smoothie! Traditional ftajjar are also available, and let's not forget their famous incredible milkshakes! A definite stomach-pleaser, no matter what you're in the mood for!
Dolce Peccati
If you have a love for Italian and Sicilian treats, Dolci Peccati is the place for you! Wholesome and delicious ice-creams and delicacies, as well as a range of sandwiches, wraps, other snacks, and a wide variety of beverages, ideal for a quick pick-me-up while you shop!
Salad Box
The latest addition to The Point's wonderful list of eateries, and a perfect option for those health food lovers! Salad Box gives you the satisfaction of creating your own salad masterpiece, allowing you to choose from their wide variety of fresh ingredients and treat yourself to a wholesome, nutritious meal.
Cinnabon
Follow the heavenly scent of cinnamon down to Level -1 to find Cinnabon, home to fresh and delicious oven-baked delights! They also have a lovely range of beverages from iced coffees and lemonades to creamy hot cocoas and coffees – perfect to wash down the ooey-gooey goodness of your cinnamon roll of choice!
M&S Foodstore                          
Slightly different to the other eateries on this list; while M&S Food Hall serves pastries, cakes, breads, ready-to-serve meals, and coffees to enjoy on-site, the outlet also offers a large range of exceptional quality food items including delicious specialty chocolates, biscuits, crisps, cooking sauces, hampers, and much more, along with a fantastic selection of international wines. Lots of great gift ideas for a fellow food lover!
Dr. Juice
Down to Level -2 now, Dr. Juice welcomes you to enjoy a lovely refreshing juice or smoothie, handmade from high quality ingredients to give you a healthy yet incredibly tasty pick-me-up. They also offer foods such as salads and wraps, and other superfood snacks. Convenient, nutritious, and incredibly delicious!
CARB
In the mood for something… not so healthy? CARB, much like its name suggests, is where you should go if you're after a cheeky carby treat. Sweet tooth? Try their Nutella pizza or Cheesecake-on-a-Stick! Fancy something savoury? Indulge in a scrumptious hotdog or sizzling pizza. No matter your craving, it's bound to be satisfied.
COSTA
Get comfortable in the cosy seating area at COSTA Coffee with a lovely hot drink (or cold if you prefer!) and a tasty bite to eat. They offer a lovely range of beverages which are beautifully created and regularly updated with seasonal options! A great excuse to visit regularly and try something new while you can!  
Eeetwell
Another relatively new member of The Point's eateries – Eeetwell can be found down on Level -3, offering you delicious freshly-prepared salads, warm bowls, wraps, juices, and smoothies, and making you feel closer to nature with its beautiful setup of greenery. A definite must-try if you're after a healthy and nutritious meal.
As you can see, there are LOADS of fantastic options to satisfy absolutely any tastes, cravings, or preferences! All well-priced, fast, and incredibly delicious.
And if you're looking for something perhaps pre-packed or a quick grab-and-go, there's also Agenda Bookshop (Level -1) where you can find a selection of drinks, packets, chocolates, and bars, and Chain Supermarket (Level -2) where you'll find just about anything you can expect from a supermarket! 
Are your taste buds tingling, stomach growling, and salivary glands a-working? Head on down to The Point and treat yourself to something delicious from any of these fantastic eateries! They're open every day – what are you waiting for? 😀
Bon Appétit!
Elena the Foodie