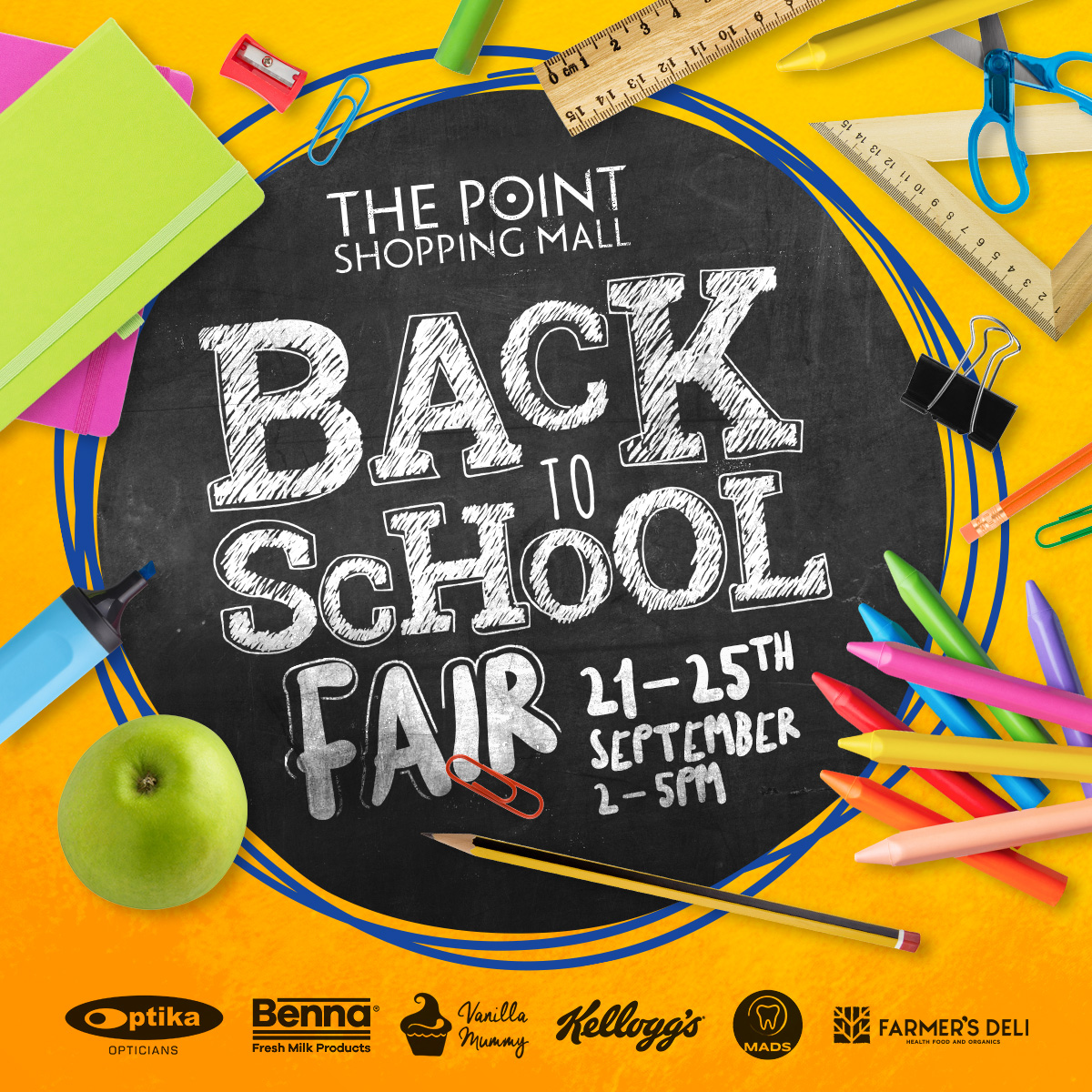 𝗙𝘂𝗻, 𝗚𝗶𝗳𝘁𝘀, 𝗚𝗮𝗺𝗲𝘀 𝗮𝗻𝗱 𝗠𝗼𝗿𝗲 𝗮𝘁 𝘁𝗵𝗲 𝗕𝗮𝗰𝗸 𝘁𝗼 𝗦𝗰𝗵𝗼𝗼𝗹 𝗙𝗮𝗶𝗿 𝗮𝘁 𝗧𝗵𝗲 𝗣𝗼𝗶𝗻𝘁!🦩🎁🎲🛍️
Malta's BEST BRANDS await for you at The Point to help you get ready for the new school year!
Visit our fair and enjoy our partner's offers:
🥛 Benna Milk – FREE* tasting & offers
🥣 Kellogg's Breakfast Cereals – FREE* Cereal Samples
🦷 Malta Dental Students Association – Oral Health Advise and freebies
👓 Optika Opticians – FREE* Eye Tests worth 30 Euros – on the purchase of Sunglasses or Frames
🥕 Farmer's Deli Organic Subscription Fruit & Veg Boxes – offers & giveaways
🍱 Vanilla Mummy Lunch Box Essentials – FREE* printed lunch box tips & offers
SEE FACEBOOK EVENT PAGE FOR FULL DETAILS
*T&Cs apply
WHEN: Wednesday 21st to Sunday 25th September from 2pm to 5pm.
WHERE
: Levels -1 & -2
The Point, Malta's favourite shopping destination 😍
TERMS AND CONDITIONS
These Terms and Conditions prevail in the event of any conflict or inconsistency with any other communications, including advertising or promotional materials. Entry / Offer instructions are deemed to form part of the Terms and Conditions and by participating all consumers will be deemed to have accepted and be bound by the terms and conditions. Please retain a copy for your information.
Starting on the Wednesday 21st September 2022, visitors may enjoy the offers, competitions, gifts and more offered by our partners when visiting The Point.
In order to do so, visitors should:
👣 Visit The Point from Wednesday 21st to Sunday 25th September between 2pm and 5pm.
📍 Levels -1 and -2 different locations
😋 Enjoy
3. Stands are run directly by our partners.
4. If you wish to contact us regarding any queries or comments, please do so by sending an email to [email protected] or call on +356 2247 0300 (from Monday to Friday between 9am and 5pm).
5. By participating, the participant is irrevocably accepting these Terms and Conditions that may be amended.
6. Tigné Mall Plc. reserves the right to unilaterally change these terms and conditions, without any prior notice and without any formality.
7. A copy of our Data Privacy Policy can be found here: thepointmalta.com/privacy-policy/