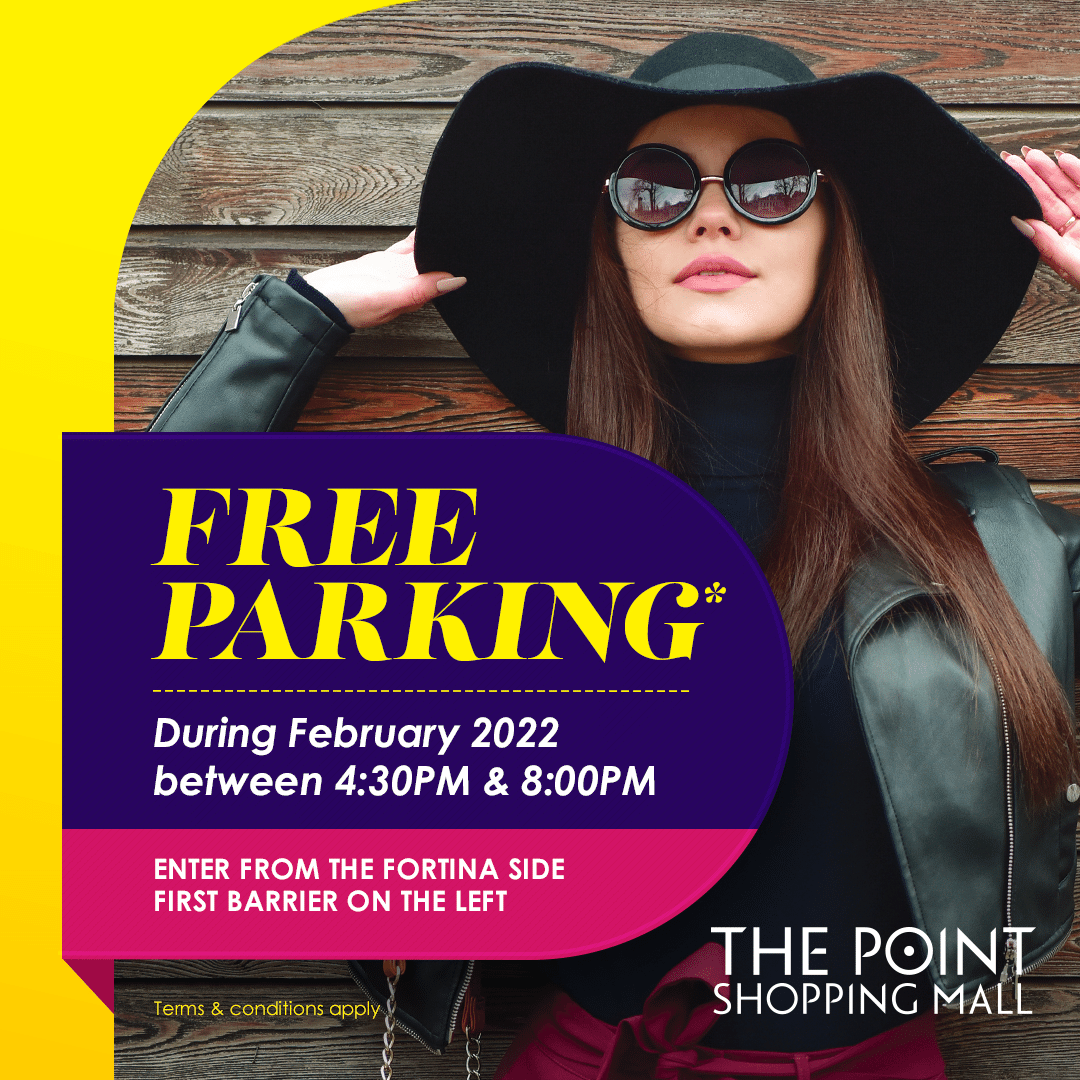 THE POINT CAR PARK IS ONLY ACCESSIBLE FROM THE FORTINA HOTEL SIDE, FIRST TURN LEFT
TERMS AND CONDITIONS
These Terms and Conditions prevail in the event of any conflict or inconsistency with any other communications, including advertising or promotional materials. Entry / Offer instructions are deemed to form part of the Terms and Conditions and by participating all customers will be deemed to have accepted and be bound by the terms and conditions. Please retain a copy for your information.
1. During the month of February 2022, visitors who park at The Point Shopping Mall Car Park may qualify to park for free.
2. To be eligible, the below criteria must be fulfilled:
a) Park at The Point Shopping Mall Car Park (only accessible from the Fortina Hotel side, first turn left).
b) Enter the car park any time after 4.30pm.
c) Exit the car park latest 8.30pm.
3. Present your The Point Shopping Mall parking ticket at the control booth in level -2.
4. The free exit of the mall must be accepted as awarded. No substitution, cash redemption or transfer of the benefit is permitted.
5. The offer does not apply in the case of parking ticket being lost.
6. The Free Parking offer is valid between Tuesday 1st and Monday 28th February 2022, Monday to Sunday between 4.30pm – 8:00pm
7. If you have any issues with the offer, please email [email protected], call on +356 2247 0300 or message us on Facebook @ThePointShoppingMall with details of the issue.
8. Tigne Mall Plc. reserves the right to cancel, amend, and/or extend this offer at any time.
9. By participating, the participant is irrevocably accepting these Terms and Conditions that may be amended.
10. Tigne Mall Plc. reserves the right to unilaterally change these terms and conditions, without any prior notice and without any formality.
11. A copy of our Data Privacy Policy can be found here: https://thepointmalta.com/privacy-policy/
[/cmsmasters_text][/cmsmasters_column][/cmsmasters_row]