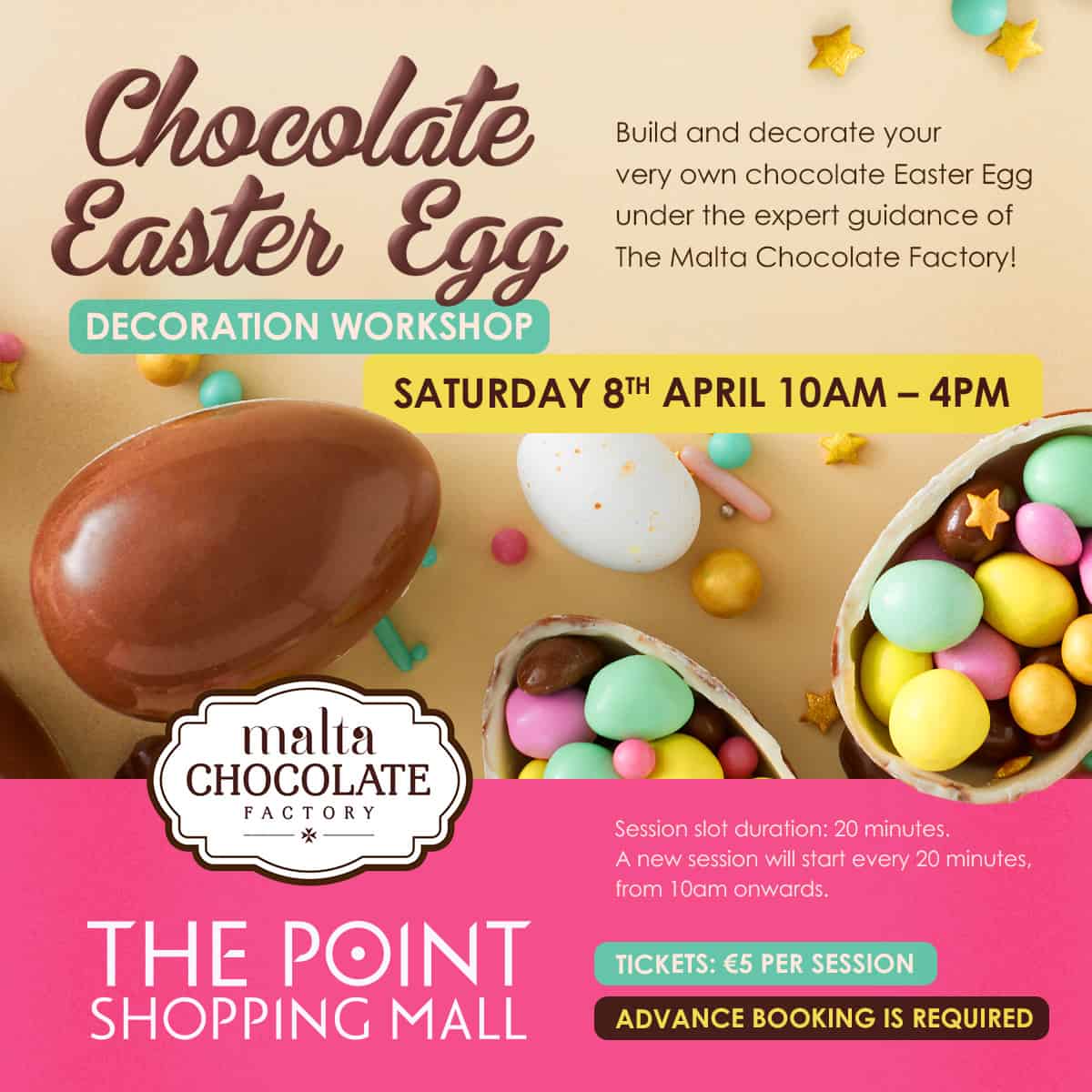 𝗖𝗵𝗼𝗰𝗼𝗹𝗮𝘁𝗲 𝗘𝗮𝘀𝘁𝗲𝗿 𝗘𝗴𝗴 𝗗𝗲𝗰𝗼𝗿𝗮𝘁𝗶𝗼𝗻 𝗪𝗼𝗿𝗸𝘀𝗵𝗼𝗽 𝗮𝘁 𝗧𝗵𝗲 𝗣𝗼𝗶𝗻𝘁! 🐇🐰🥚🍫🐣💐
𝗧𝗵𝗲 𝗣𝗼𝗶𝗻𝘁 invites you and your friends to join us for a day of 𝗘𝗡𝗧𝗘𝗥𝗧𝗔𝗜𝗡𝗠𝗘𝗡𝗧 for kids and families.
𝗪𝗛𝗘𝗡:  Saturday 8th April 2023 from 10AM – 4PM
𝗔𝗖𝗧𝗜𝗩𝗜𝗧𝗜𝗘𝗦: Build and decorate your very own chocolate Easter Egg under the expert guidance of The Malta Chocolate Factory!
🐰
Session slot duration: 20 minutes.
🐰
A new session will start every 20 minutes, from 10:00 am onwards.
🐰
Tickets: €5.00 per person / session
🚨 🚨 Advance booking is required 🚨🚨
Rain or shine, the fun goes on at The Point 
#easterchocolate #easter #eastereggs #easterbunny #eastertreats #happyeaster #eastergifts #chocolatelover #easterbasket #chocolateeggs #easteregg #chocolates #handmade #easteregghunt #homemade #minieggs #eastergift #eastercandy #love #supportlocal #foodie #food #chocolateaddict #artisanchocolate #chocolatier #eastersunday #birthdaycake #easterdecor
#ThePoint
The Point, Malta's favourite shopping destination 😍