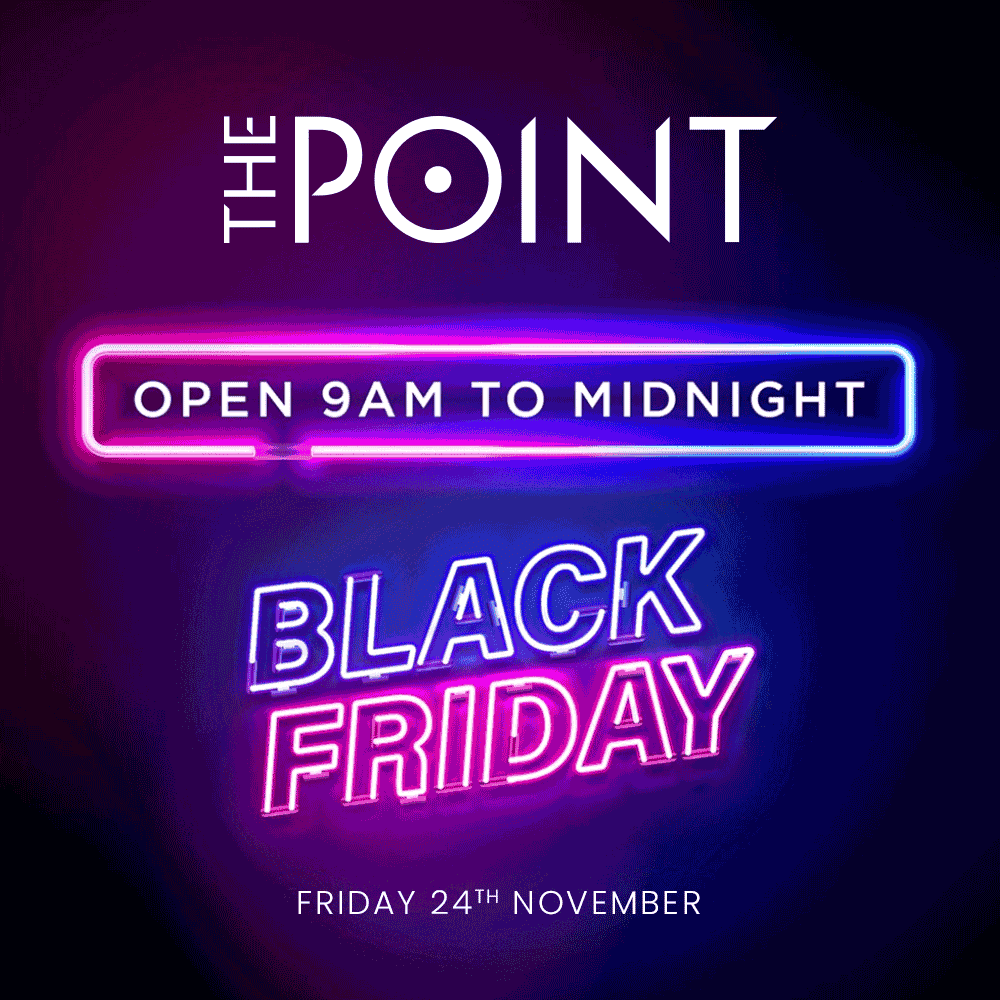 It's MINE! 🏃 👩🆚👱‍♀️🎁💳
🖤 Black Friday 🖤 deals, starting Friday 24th November at The Point
🎶 EXTENDED OPENING HOURS:
Friday: 9am till midnight
𝗦𝗲𝗲 𝘀𝗼𝗺𝗲 𝗼𝗳 𝗼𝘂𝗿 𝗼𝗳𝗳𝗲𝗿𝘀 𝗶𝗻 𝗵𝗲𝗿𝗲 👉 👉 https://bit.ly/BlackFriday2023Offers
The Point Shopping Mall.
That's MY POINT 😍
TERMS AND CONDITIONS
These Terms and Conditions prevail in the event of any conflict or inconsistency with any other communications, including advertising or promotional materials. Entry / Offer instructions are deemed to form part of the Terms and Conditions and by participating all consumers will be deemed to have accepted and be bound by the terms and conditions. Please retain a copy for your information.
On Friday 24th November 2023 The Point Shopping Mall will kick start its Black Friday sale.
The Mall's opening hours for Friday 24th November will be from 9:00AM until midnight. The opening hours for Saturday 25th and Sunday 26th November will be from 10:00AM to 8:00PM.
Promotional offers and discounts offered by the various companies are entirely at their discretion. These are showcased on our platforms for informative purposes; however, we accept no liability for any disagreements related to them.
If you wish to contact us, please do so by sending an email to

[email protected]

or calling +356 2247 0300 (from Monday to Friday between 9:00AM and 5:00PM).
By participating in this activity, you consent to Tigné Mall Plc. and any of its partners to transfer and use your personal data for this promotion as required.
All entries and the rights to publish, edit and/or distribute them become the property of Tigne Mall Plc.
By participating, the participant is irrevocably accepting these Terms and Conditions which may be amended.
Tigné Mall Plc. reserves the right to unilaterally change these terms and conditions without prior notice and without any formality.
Participants under 18 years of age must have their parents / guardians' consent.
A copy of our Data Privacy Policy can be found here: thepointmalta.com/privacy-policy/