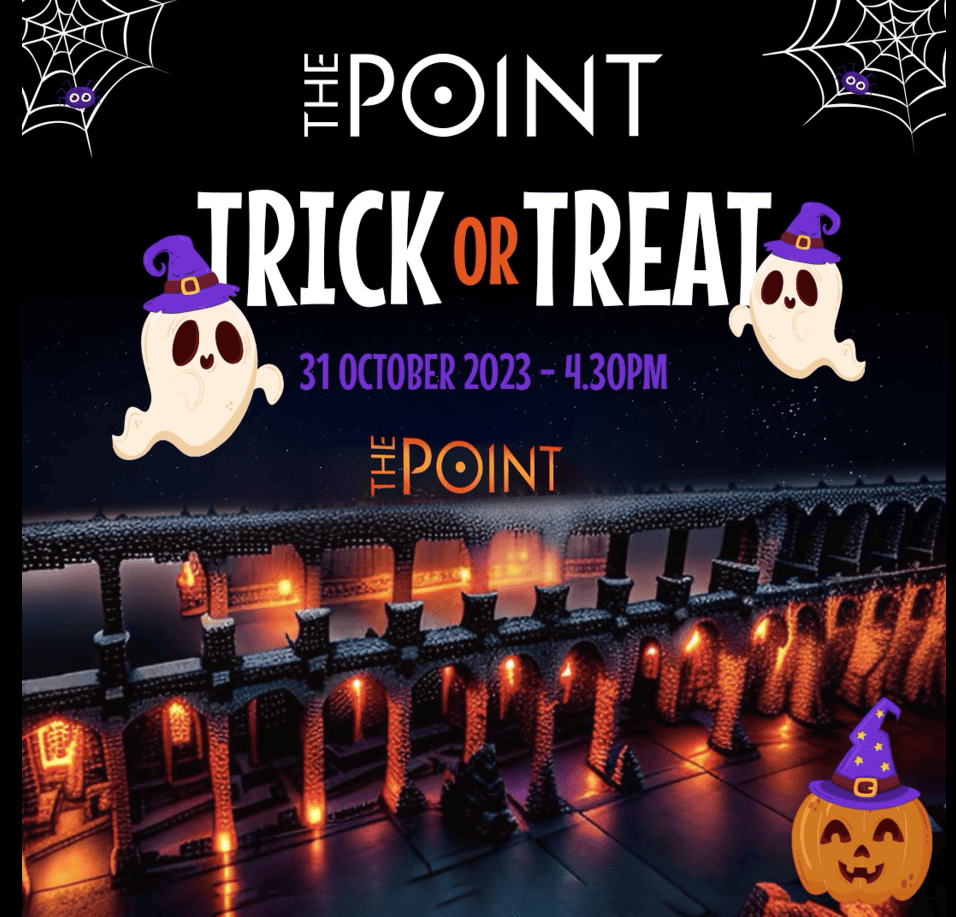 𝗧𝗿𝗶𝗰𝗸 𝗼𝗿 𝘁𝗿𝗲𝗮𝘁 𝗮𝘁 𝗧𝗵𝗲 𝗣𝗼𝗶𝗻𝘁 𝘁𝗵𝗶𝘀 𝗛𝗮𝗹𝗹𝗼𝘄𝗲𝗲𝗻𝘁! 🎃🍬🎡🍭
𝗧𝗵𝗲 𝗣𝗼𝗶𝗻𝘁 𝗙𝗨𝗡 𝗖𝗟𝗨𝗕 invites you and your friends to join our 𝗙𝗥𝗘𝗘 event and enjoy an afternoon of 𝗘𝗡𝗧𝗘𝗥𝗧𝗔𝗜𝗡𝗠𝗘𝗡𝗧 for kids and families
𝗪𝗛𝗘𝗡: – Tuesday, 31st October, starting at 4:30 PM 𝗛𝘂𝗿𝗿𝘆, 𝘄𝗵𝗶𝗹𝗲 𝘀𝘁𝗼𝗰𝗸𝘀 𝗹𝗮𝘀𝘁!
𝗪𝗛𝗘𝗥𝗘: All our stores at The Point
𝗔𝗖𝗧𝗜𝗩𝗜𝗧𝗜𝗘𝗦: 𝗔𝗟𝗟 𝗢𝗨𝗥 𝗦𝗧𝗢𝗥𝗘𝗦 will be giving away sweets and mini toys* for your little ghouls and goblins, promoting a fun-filled, safe Halloween. Make sure to visit as many as you can!
*𝗟𝗲𝘀𝘀 𝘀𝘄𝗲𝗲𝘁𝘀, 𝗳𝗲𝘄𝗲𝗿 𝗵𝗲𝗮𝗹𝘁𝗵 𝘁𝗿𝗶𝗰𝗸𝘀! 𝗖𝗵𝗼𝗼𝘀𝗲 𝘁𝗿𝗲𝗮𝘁𝘀 𝘄𝗶𝘀𝗲𝗹𝘆 𝘁𝗵𝗶𝘀 𝗛𝗮𝗹𝗹𝗼𝘄𝗲𝗲𝗻! .𖥔 ݁ ˖🕸️🕷.𖥔 ݁ ˖
The Point, Malta's favourite shopping destination 😍