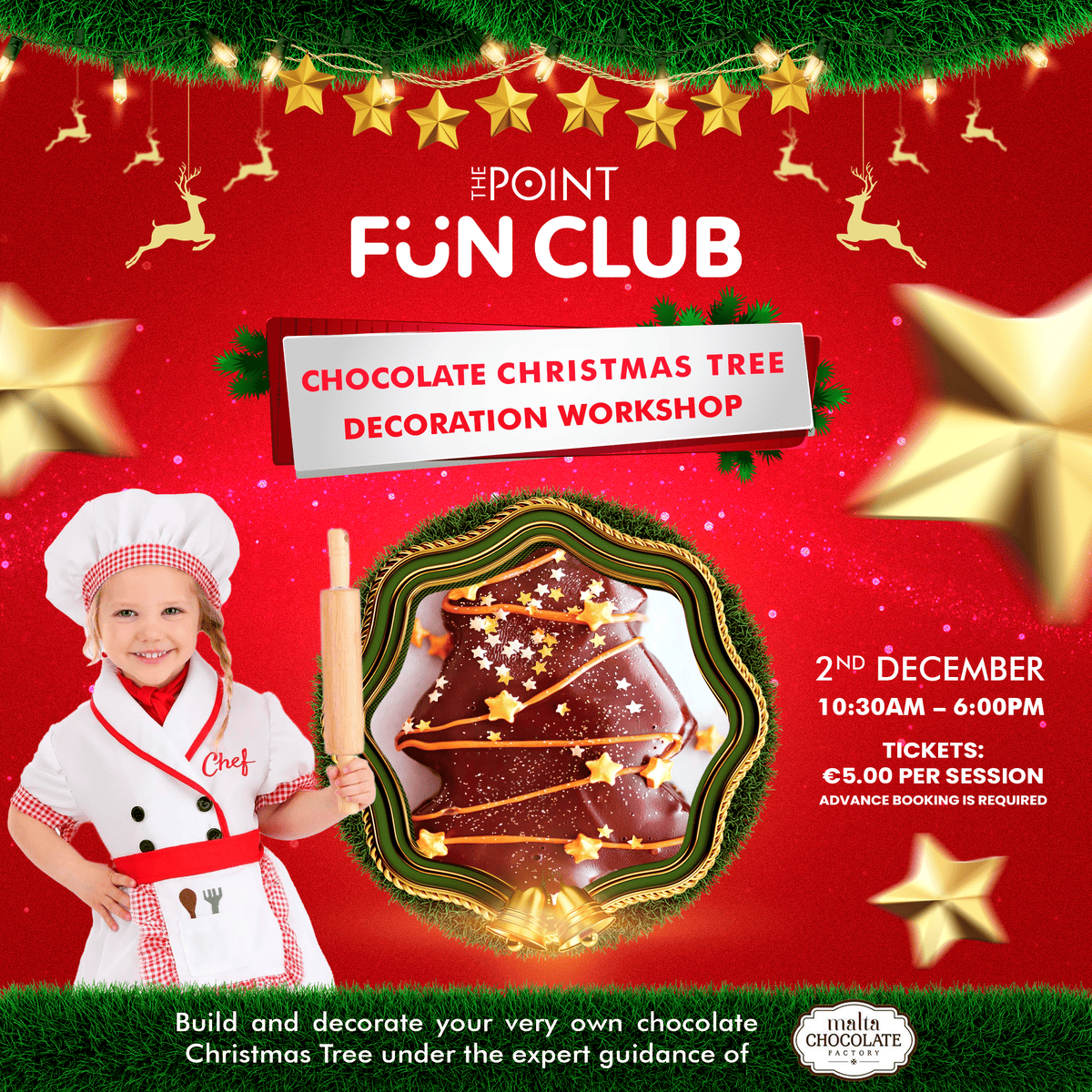 𝗖𝗵𝗼𝗰𝗼𝗹𝗮𝘁𝗲 𝗖𝗵𝗿𝗶𝘀𝘁𝗺𝗮𝘀 𝗧𝗿𝗲𝗲 𝗗𝗲𝗰𝗼𝗿𝗮𝘁𝗶𝗼𝗻 𝗪𝗼𝗿𝗸𝘀𝗵𝗼𝗽 𝗮𝘁 𝗧𝗵𝗲 𝗣𝗼𝗶𝗻𝘁!
𝗧𝗵𝗲 𝗣𝗼𝗶𝗻𝘁 𝗙𝗨𝗡 𝗖𝗟𝗨𝗕 invites you and your friends to join us for a day of 𝗘𝗡𝗧𝗘𝗥𝗧𝗔𝗜𝗡𝗠𝗘𝗡𝗧 for kids and families
𝗪𝗛𝗘𝗡: – Saturday 2nd December 2023 from 10:30AM – 6:00PM
𝗔𝗖𝗧𝗜𝗩𝗜𝗧𝗜𝗘𝗦: Decorate your very own chocolate 𝗖𝗵𝗿𝗶𝘀𝘁𝗺𝗮𝘀 𝘁𝗿𝗲𝗲 under the expert guidance of The Malta Chocolate Factory!
 Session slot duration: 20 minutes.
A new session will start every 20 minutes, from 10:00 am onwards.
Tickets: €5.00 per person / session.
𝗔𝗱𝘃𝗮𝗻𝗰𝗲 𝗯𝗼𝗼𝗸𝗶𝗻𝗴 𝗶𝘀 𝗿𝗲𝗾𝘂𝗶𝗿𝗲𝗱
The Point Shopping Mall, That's MY POINT